---
November 2016
Dear Community Cat Supporters and Friends,
Two years ago, A Feral Haven was founded with a mission to partner with community caregivers, animal welfare groups, governmental agencies, and the citizens of Ottawa County, MI and beyond to advocate for and support the health and welfare of community/feral cats by providing spay/neuter, vaccinations, food, and winter shelter to cats in their home neighborhoods and by providing sanctuary and care to displaced community/feral cats.
With the support of caring people like you, collaborating organizations, businesses, and grant foundations, we have changed the lives of over 200 community cats in Ottawa County, MI and surrounding areas since A Feral Haven was established. We believe their lives are better as a result of the services we provide.
This year we would like to introduce you to two of the cats whose lives have been changed by A Feral Haven.
Meet Mama Kitty. Mama's caretakers, April and Dave, have been faithfully feeding her for 4 years. During that time Mama has had 32 kittens. This August, after 4 years of determined effort by April, Mama was successfully trapped and received spay surgery and vaccinations at C-SNIP through our voucher program. Mama and a few of her altered offspring have been sheltered by Haven Huts and fed with food donated to us and shared with April. Thanks to generous donors like you, Mama Kitty will no longer be having kittens.
Since we just mentioned the Haven Huts, let us introduce you to Smokey. Smokey and his 2 siblings were found in a Haven Hut by colony caretakers at a local business property. Their mother was trapped for services and it wasn't known that she had kittens. The Haven Hut kept the kittens safe out of the early spring weather and away from potential predators until the caretakers found them. Swift action by the caretakers, prompt intake by Harbor Humane Society, and the dedication of a foster mom to bottle feed led to the adoptions of Smokey, Samantha, and Sara. This happy outcome started with the Haven Hut.
You can help! We invite you to be part the positive change for community cats.  A Feral Haven is operated solely by volunteers and is a 501(c) 3 non-profit organization. Every dollar donated goes toward helping this under-served population.  Tax-deductible donations can easily be sent to A Feral Haven by mailing a donation to our business address.
Sincerely,
Carleen, Tracey, Debra, Christina
Board of Directors
---
Please click here to review our 2016 accomplishments!
---
We are grateful to The Binky Foundation for a grant received to purchase or build additional feral cat shelters
We are grateful and excited to announce that we have received a grant from the
BISSELL Pet Foundation

. Funds from this grant will support the spay/neuter & vaccination costs for more than 20 community cats in our service area. Thank You BISSELL!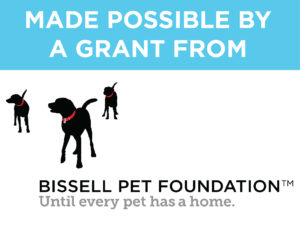 ---
Cats and Dogs, a Magazine Devoted to Companion Animal